Regular price
$190.00 USD
Regular price
Sale price
$190.00 USD
Unit price
per
Sale
Sold out
An iridescent Labradorite drop. 
Rainbow sequence: Apatite, Amethyst, Ruby, Carnelian, Yellow Sapphire, and Emerald.
Approximately 17" long with a 14K gold filled lobster clasp. 
| awaken wisdom | energize | courage | imagination |
Share
View full details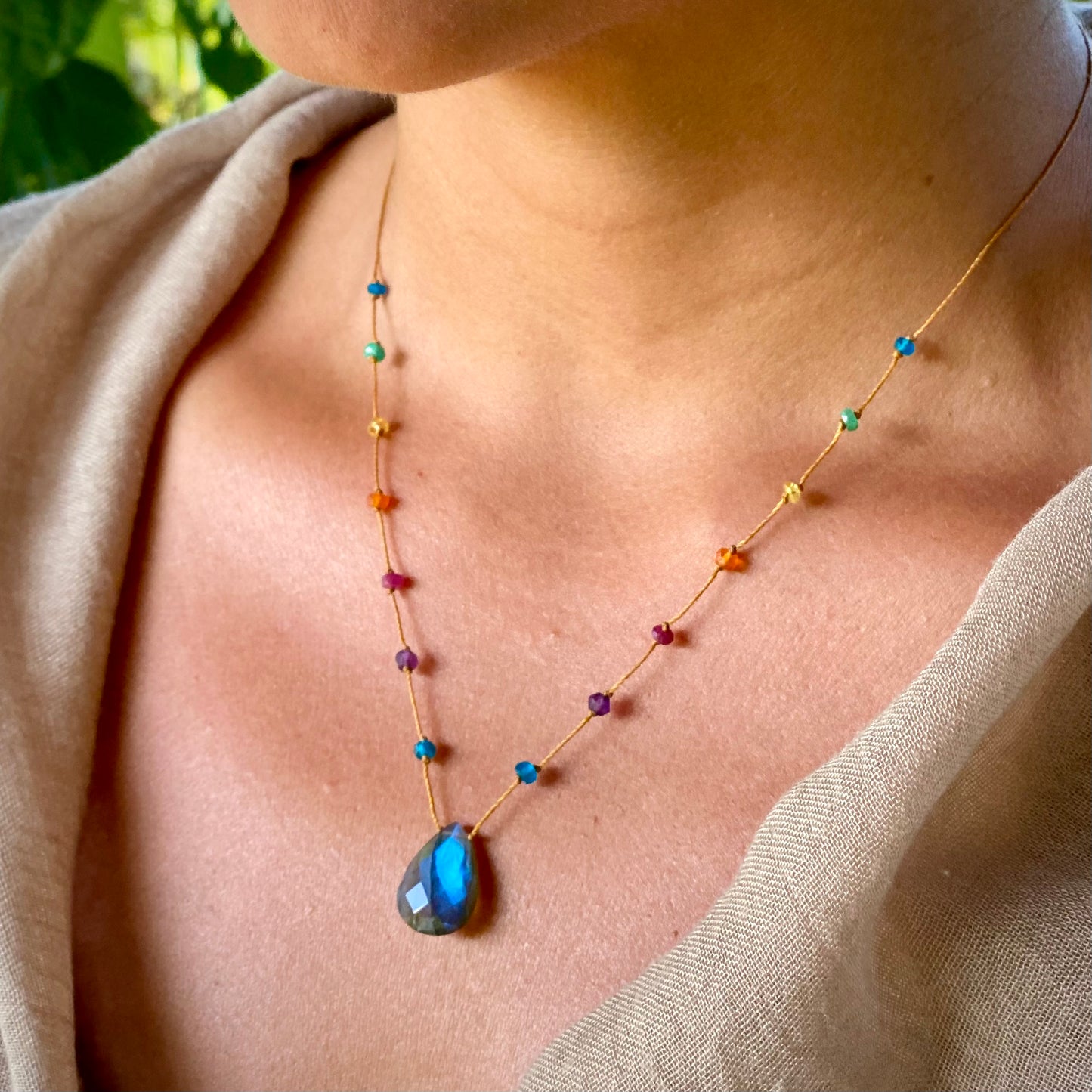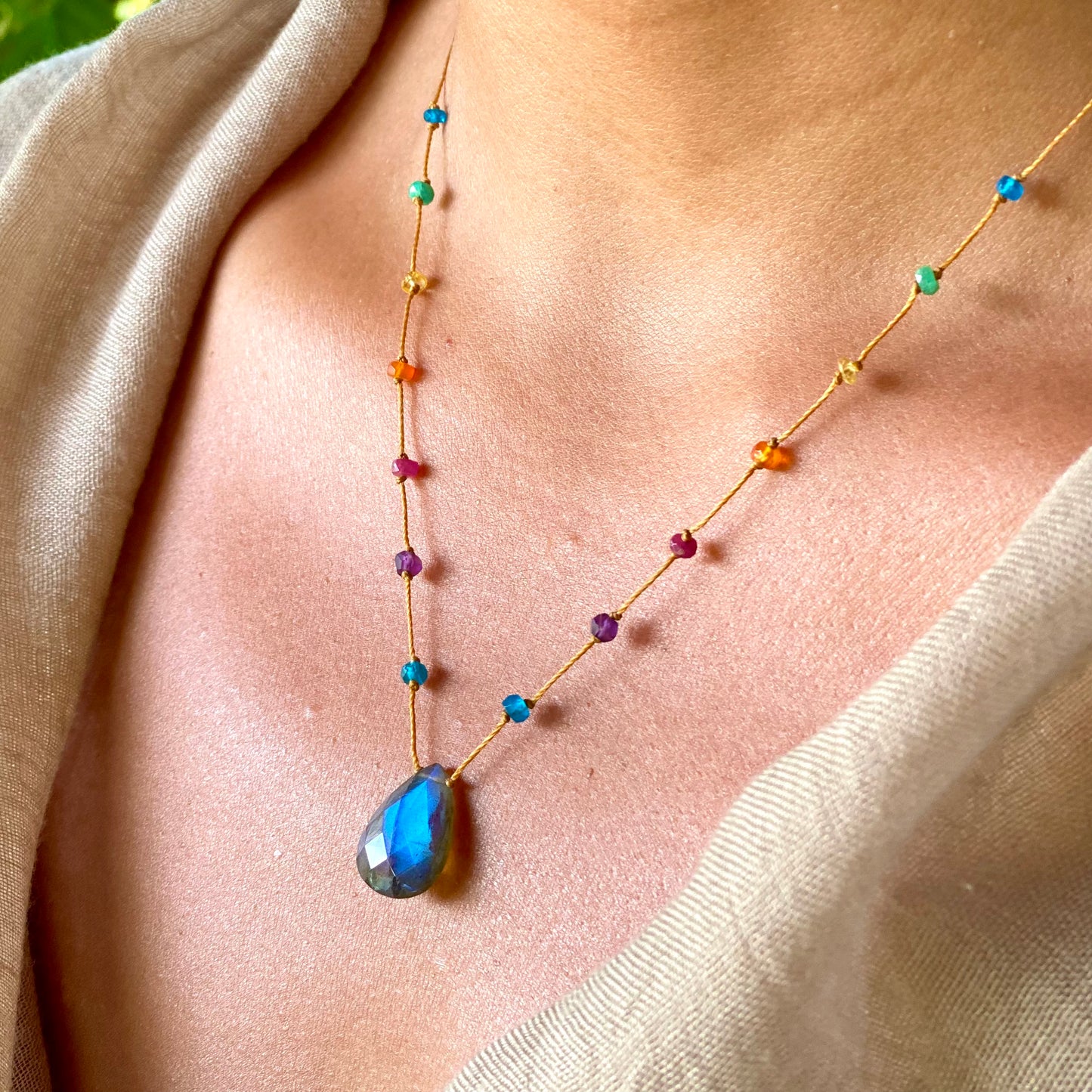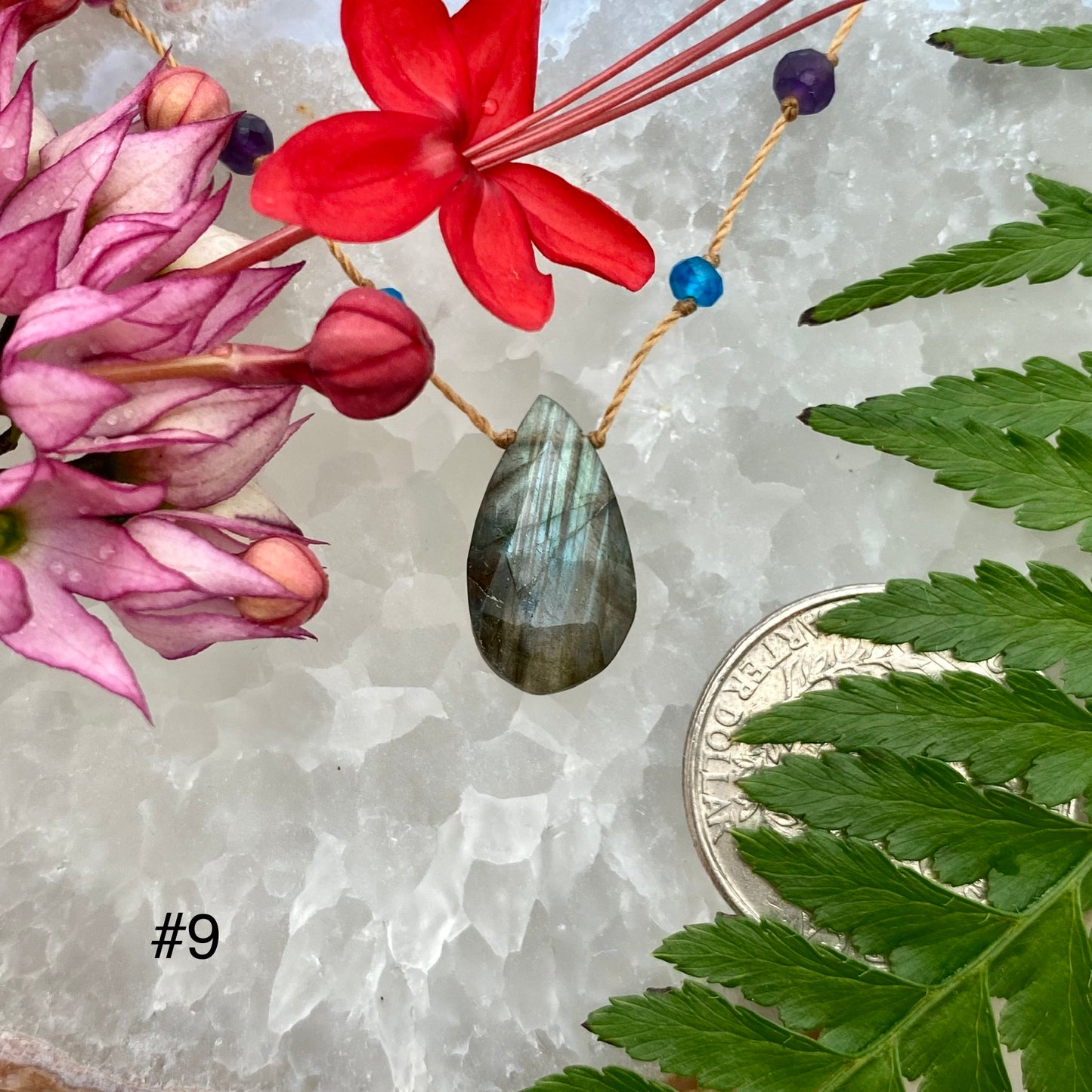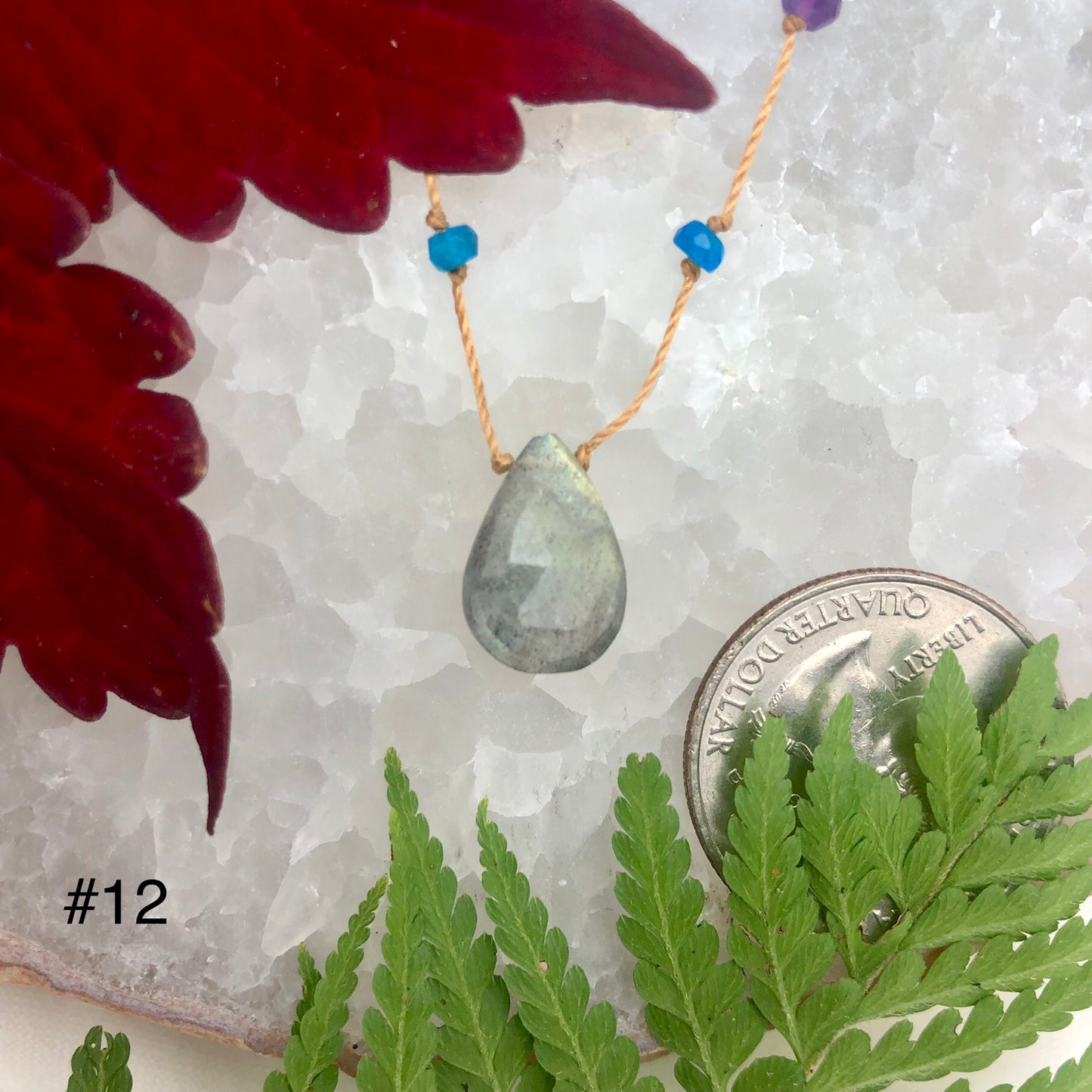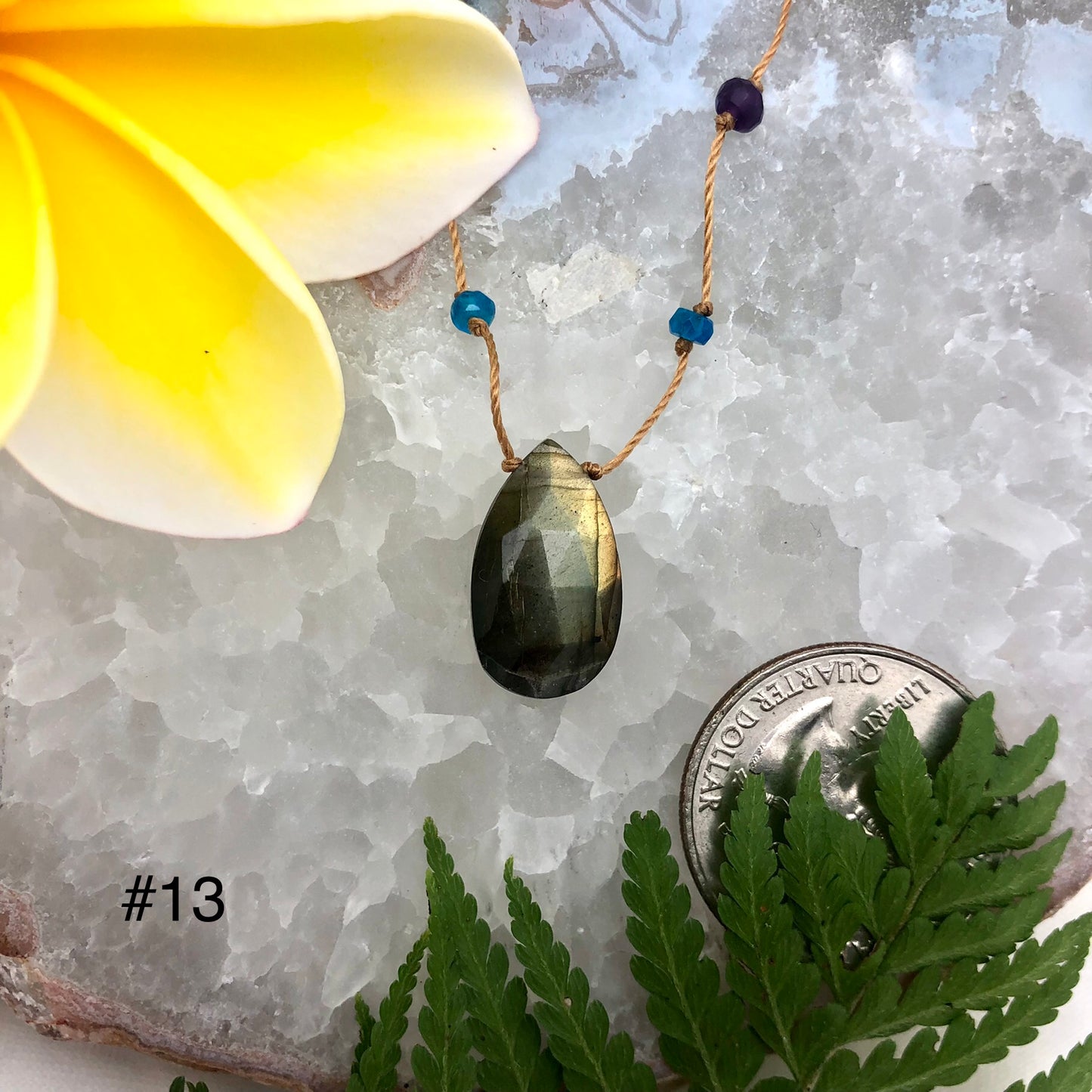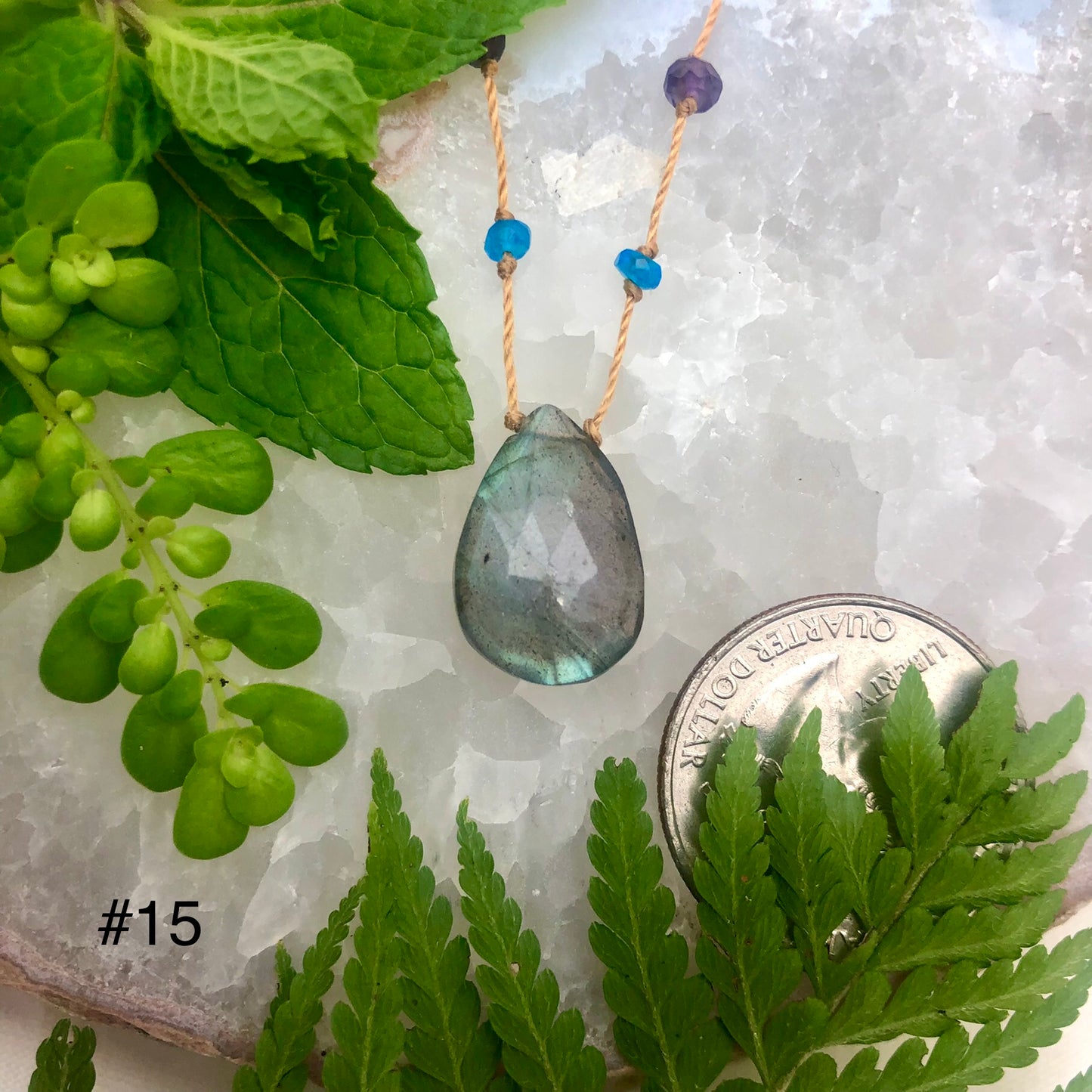 LABRADORITE
Considered the stone of transformation, wisdom, and intuition this mystical gem may stimulate psychic gifts and serve as a shield for the aura. It is helpful for those who overwork, assisting in the regeneration of energy. Named for Labrador, a Canadian province on the isle of Paul where it was originally found, our labradorite now comes from Madagascar.
Please read our disclaimer regarding our mineral information
Rainbow Drops
Perhaps the quintessential beginning of Rainbow Gems Kauai, these delicate rainbow drops showcase the full light spectrum with carefully spaced individual gemstones, culminating in a featured crystalline drop. Just as rainbows herald new beginnings and luck these exquisite strands are the perfect place to begin your love affair with Amalia's artwork or simply with yourself, welcoming each and every day as it comes. Many find that once they put on their rainbow drop they never take it off again, such is the nature of love. These strands are perfect for the minimalist at heart and make a striking impression stacked in a series with our other collections.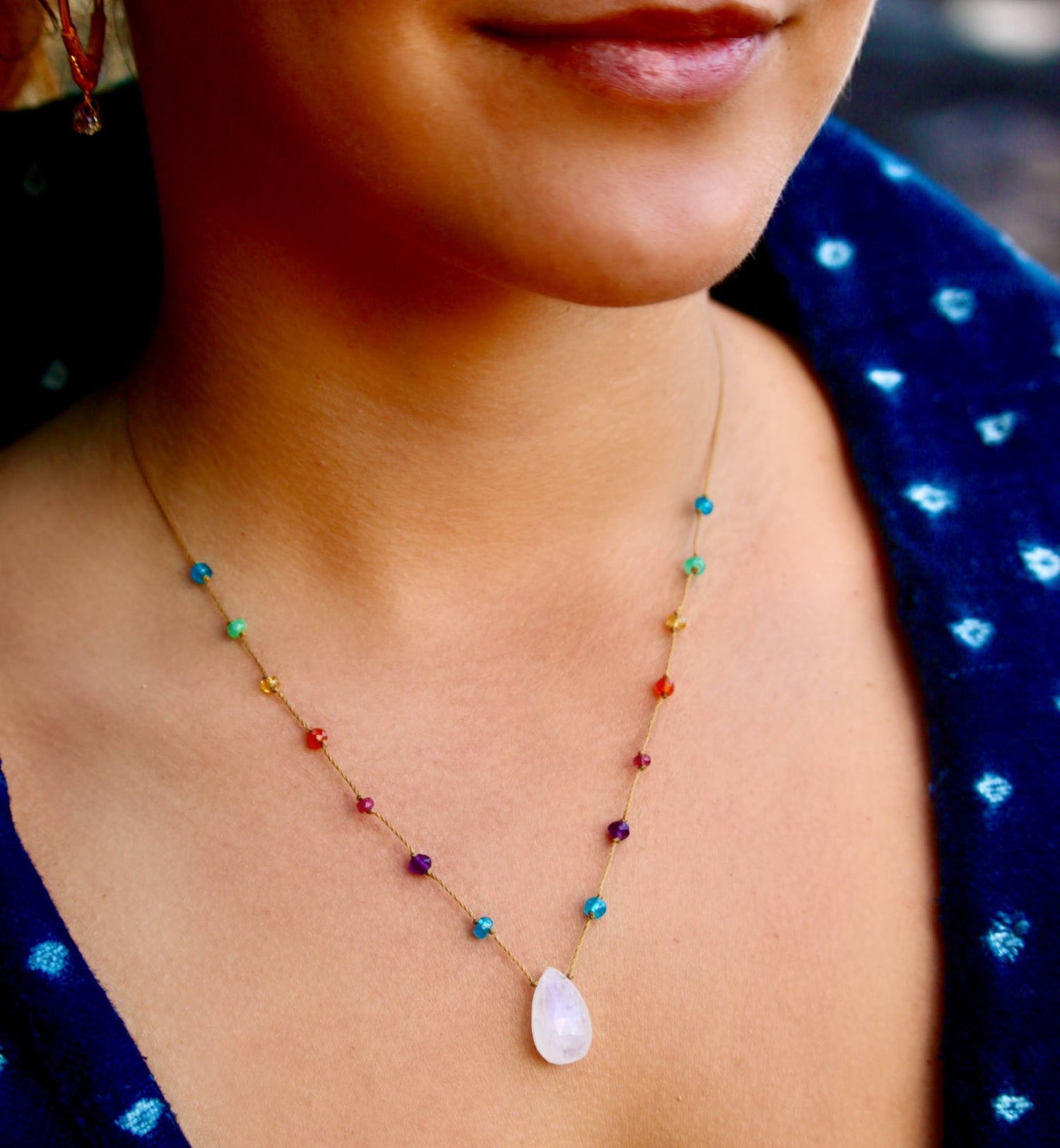 Our rainbow drops have been adorning people for over a decade.
The Rainbow sequence is:
Apatite
Amethyst
Ruby
Carnelian
Yellow Sapphire
Emerald
Apatite
Layering:
Rainbow drops accent our rainbow leis beautifully and can be worn to emphasize similar colors or to create striking contrasts. They also function as a powerful seed piece inside a stack of chosen malas, leis, and rainbow mana.
Praises
"From the very first Spirit Weavers Gathering, Amalia's jewelry, specifically her Rainbow Drops have been a favorite amongst the Women.  The Rainbow Drops have become initiation pieces for many women, symbolizing inspiration, strength, growth and empowerment.  Year after year, women seek out the precious drops at the Gathering, a reminder that we too are treasures from the Earth.  
I have been blessed to be adorned by Amalia over the last decade and each year, a new piece finds its way to me.  With each one, I can feel the prayers her hands have woven into the precious handcrafted works of art. Too often we forget to gift ourselves with such special gems of adornment. Amalia's pieces remind us that we are all worthy enough to receive the treasures of sweet Rainbow Drops."
Amy Mea Woodruff @daughterofthesun_