Regular price
$3,750.00 USD
Regular price
Sale price
$3,750.00 USD
Unit price
per
Sale
Sold out
Stunning Pink Sapphire drops with a beautiful Tahitian black pearl, accented with Tahitian Keshi pearls and solid 18K handmade gold beads. Solid 18K gold chain and lobster clasp, adjustable at 17.5-18.25-18.5" long.
Share
View full details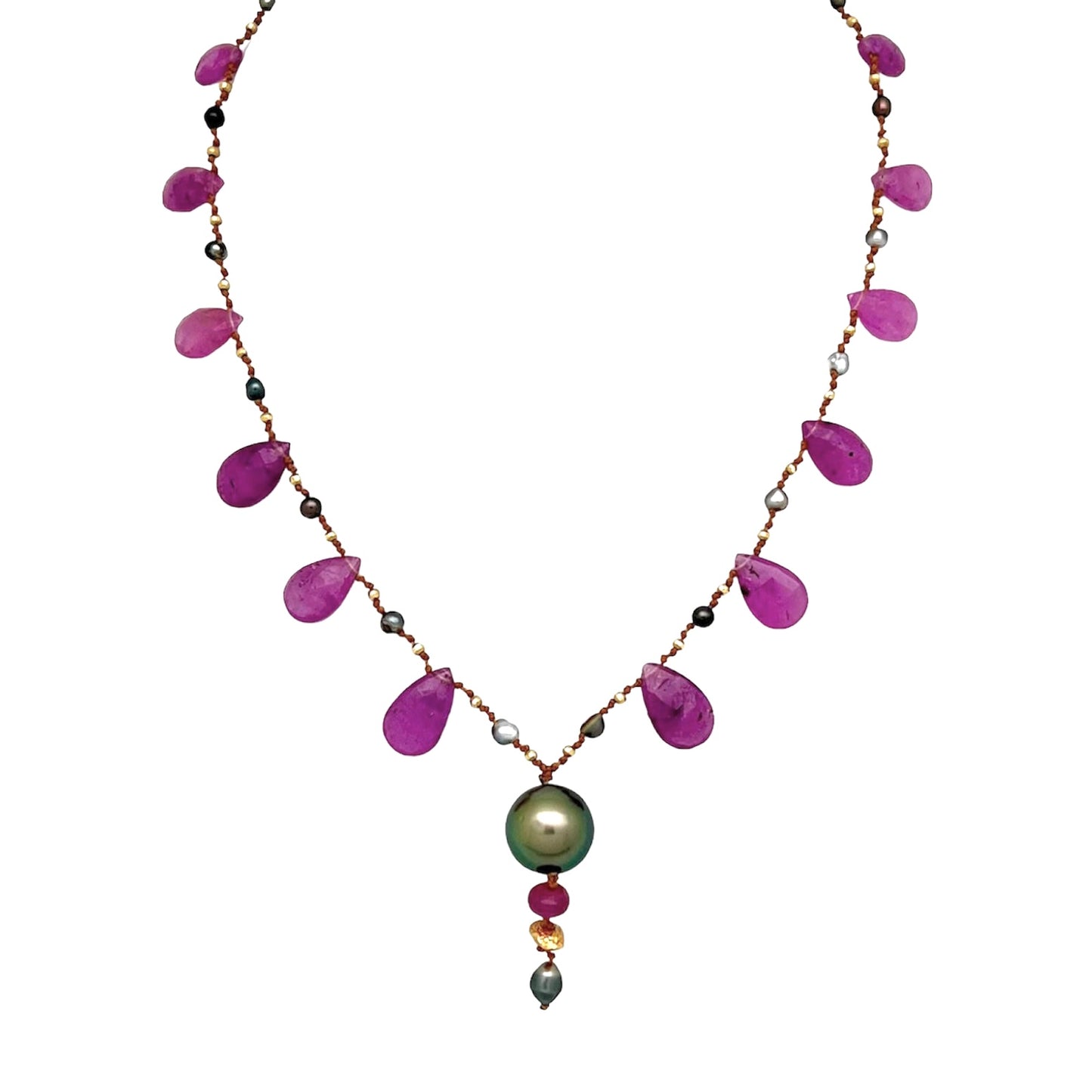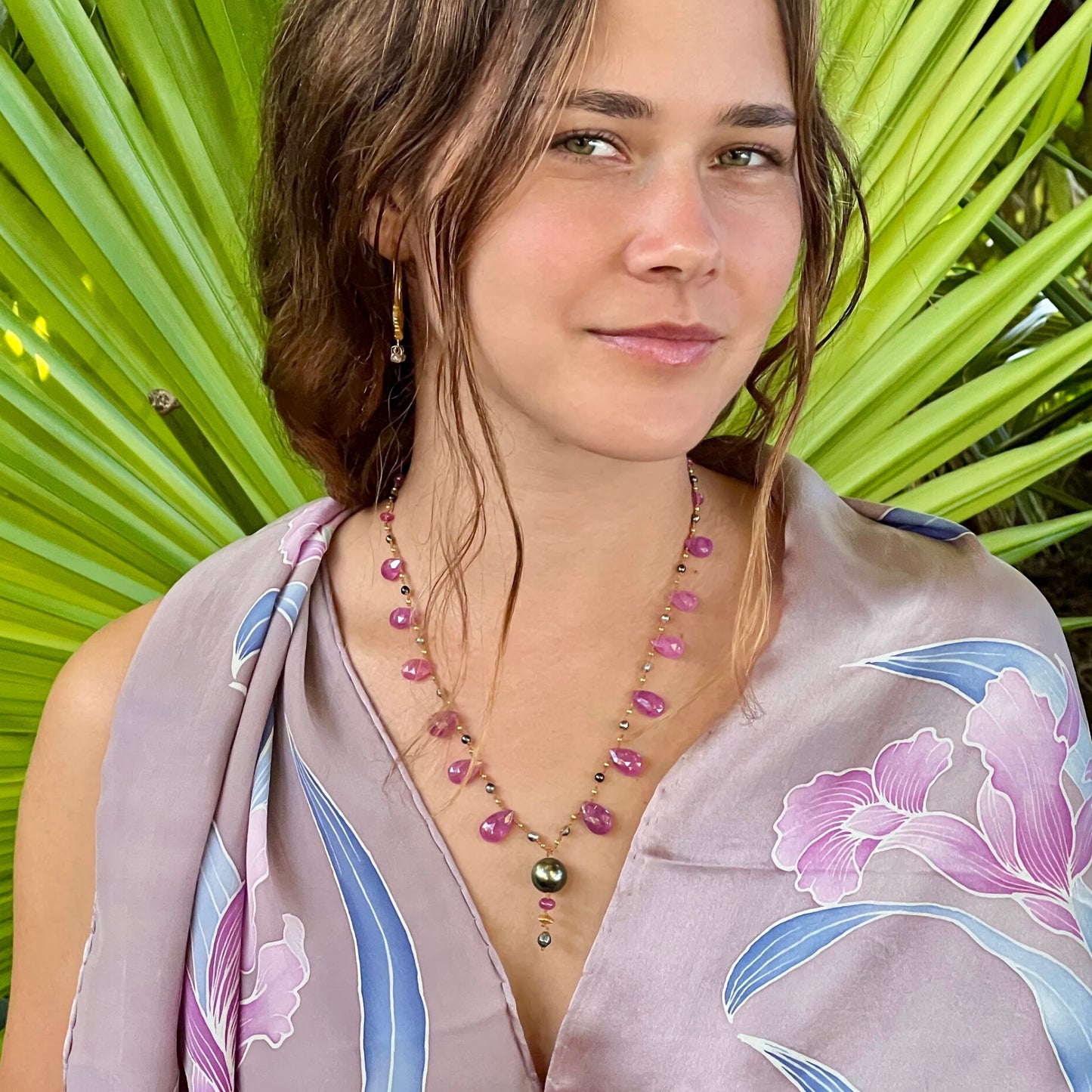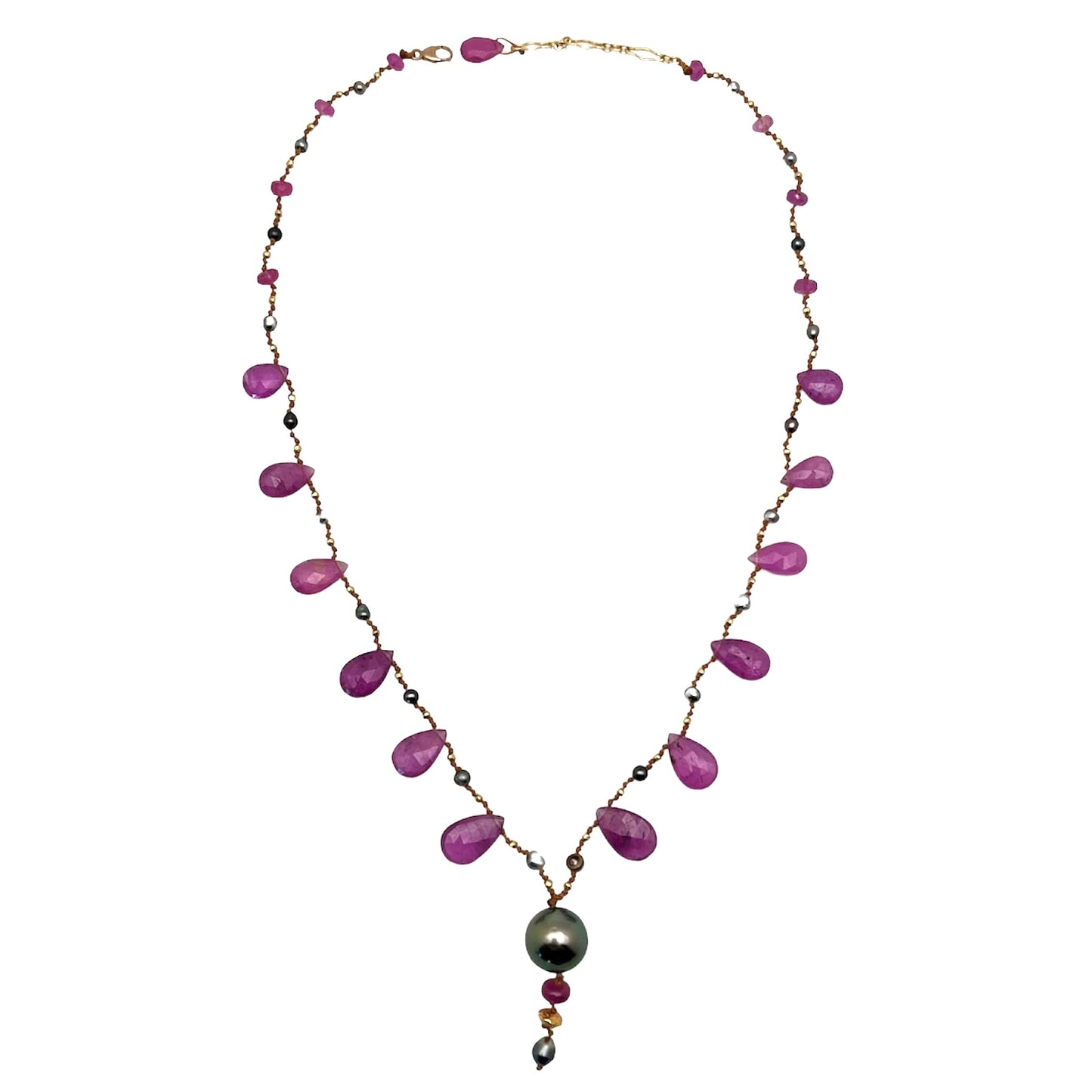 PINK SAPPHIRE
Fostering faith in love, pink sapphire encourages the wearer to release past hurts and open to the wisdom of the heart. Akin to Ruby, pink sapphire derives its color as a result of chromium in the corundum. All sapphires are considered precious stones and are a powerful amulet for those on a spiritual path seeking to connect with the energy of purpose and prayer. Stones of calm authority and decisive action rooted in truth, wisdom, and integrity, sapphires uplift and protect the noble-hearted.
TAHITIAN BLACK PEARL
A saltwater pearl cultivated in French Polynesia, Tahitian pearls add an element of mystery, wisdom, and sultry island elegance. Considered a protective pearl, they support transformation, ever lasting love, and the alchemy of the heart. The rare black color unique to Tahitian pearls is a result of the dark pigment secreted by the black-lipped oyster found in French Polynesia. Tahitian pearls are nature's only source of truly black pearls and come in a variety of deeply pigmented pearls from with a range of colorful overtones, from pitch black to the infamous peacock pearl.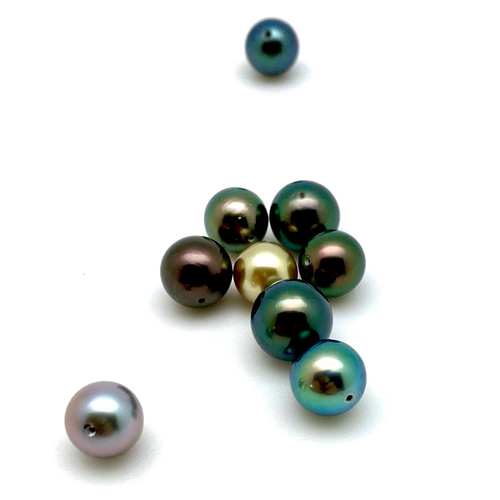 Please read our disclaimer regarding our mineral information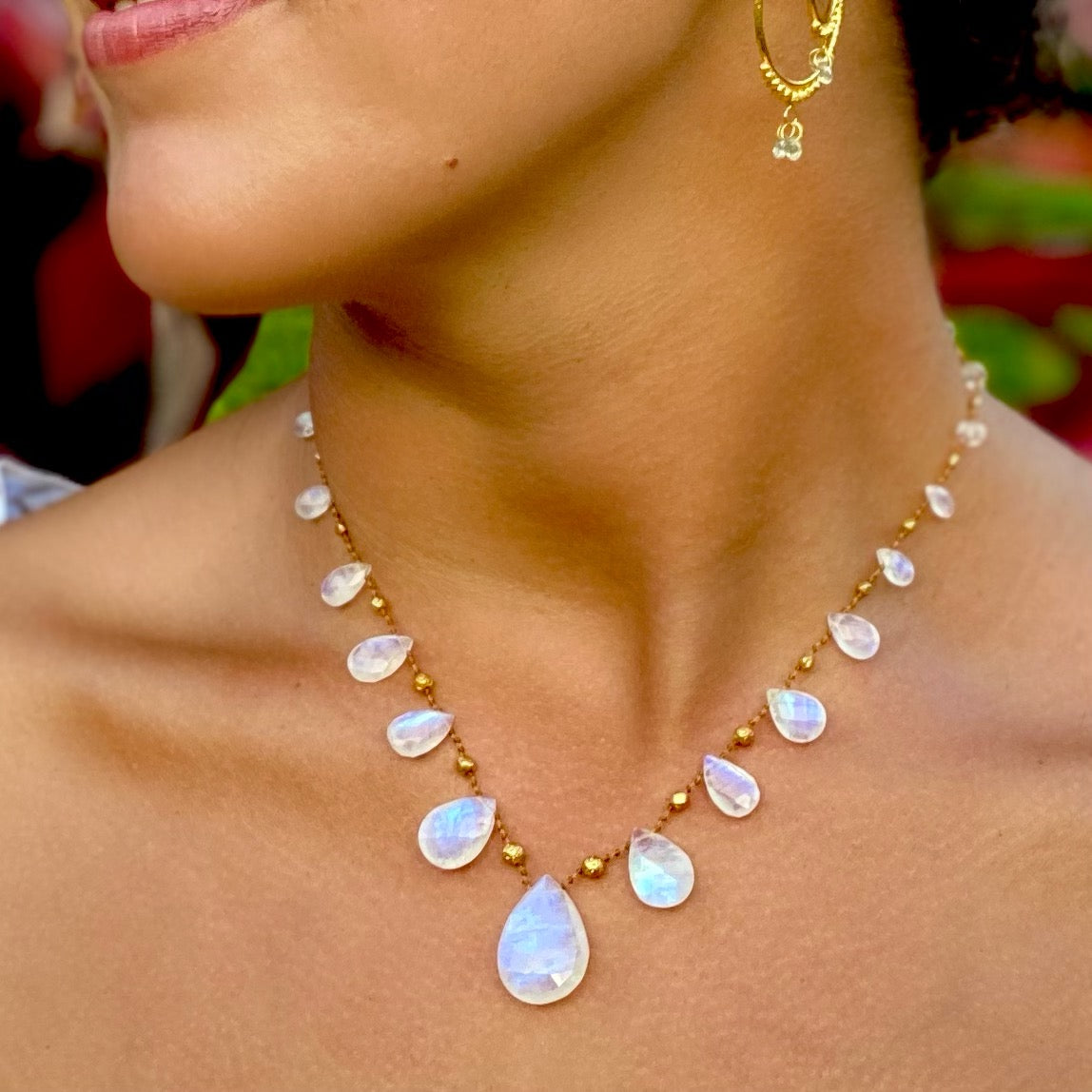 This luminous line provides a substantive dose of crystalline nutrition, pulsing with elevated earth frequencies from the body of nature herself.  Designed for the noble-hearted, these regal priestess pieces are comprised of multi-dimensional drop gemstones, highlighted by handmade 18 karat gold beads. This is bling at its most blessed.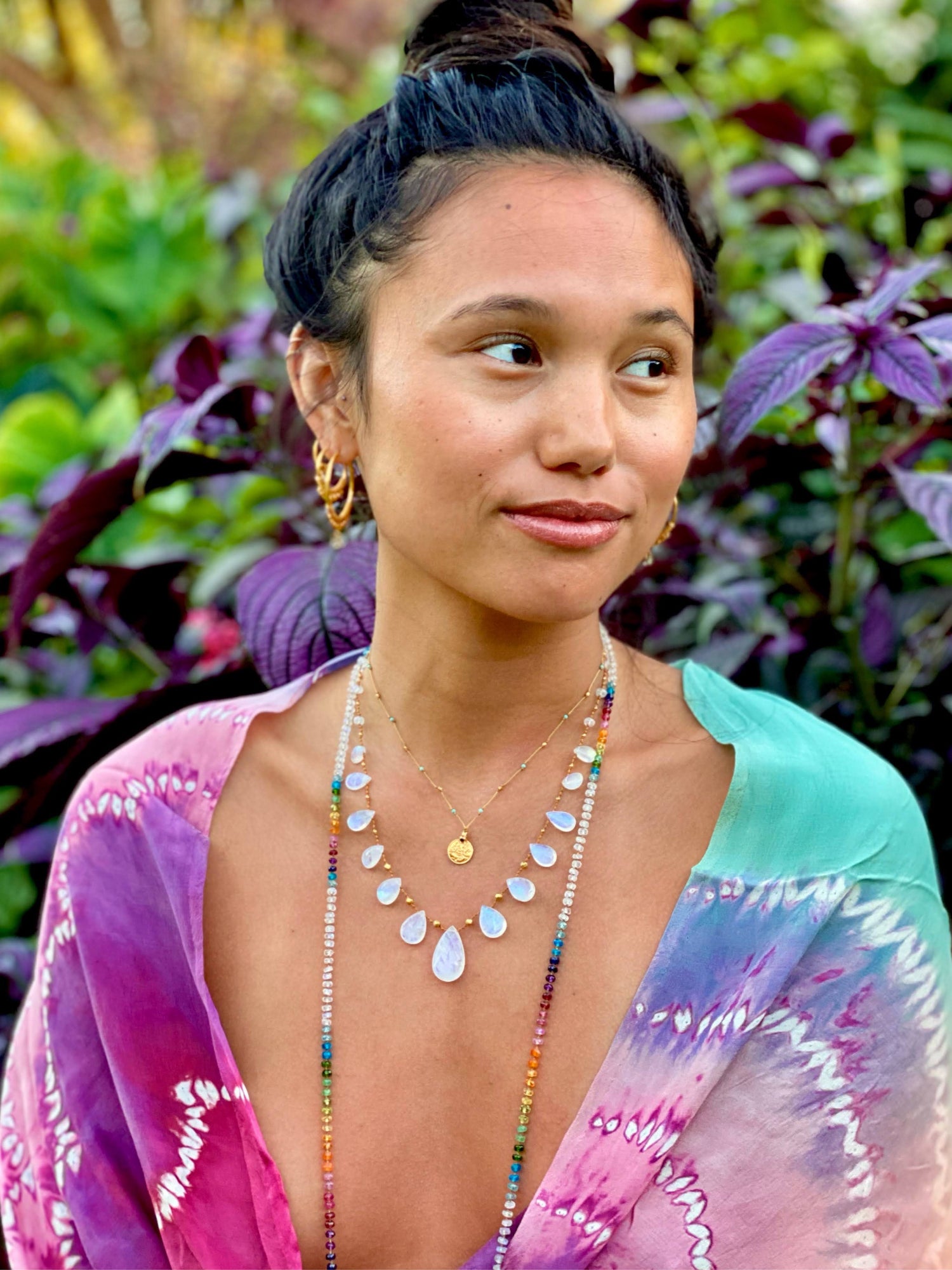 Layering:
We think the Ali'i Mana make incredible solo statement pieces accented aside our earring collection, but as always, can be worn in sophistication with any of our other collections.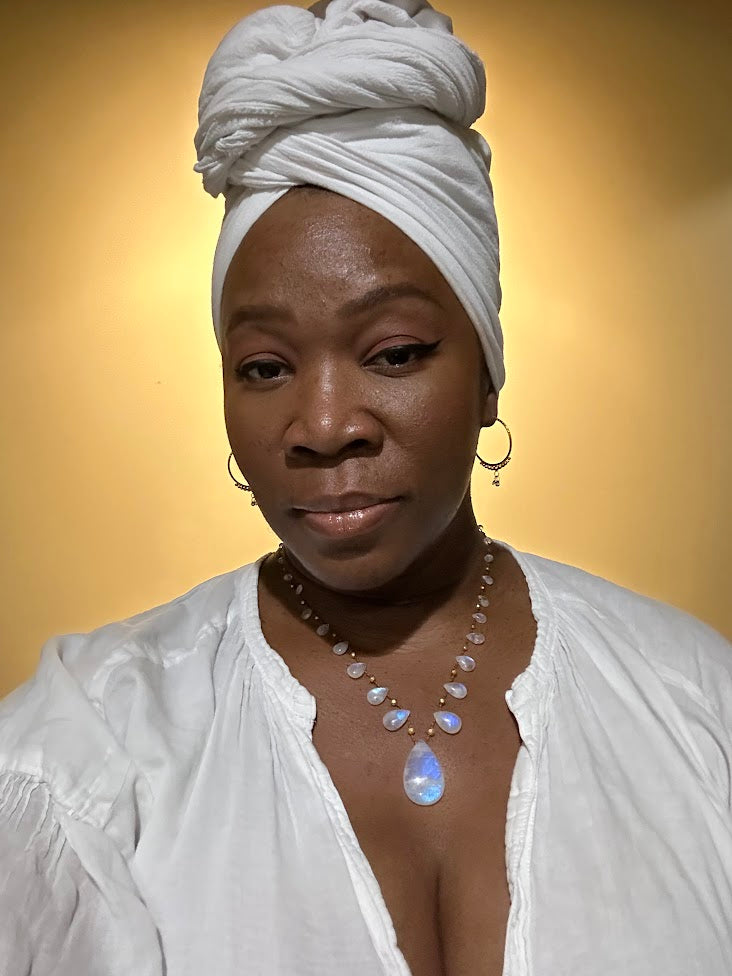 My passion for jewelry started with my moms fashion shows
I started metal smithing at Range View high school in Colorado, and went to @SCAD on portfolio scholarship.
Obviously, I ended up being consumed with my LIFE LONG LOVE OF MUSIC AND WORDS. But my passion for jewelry has gone around the woooooorld with me.
Amalia from @rainbowgemskauai has that same deep love for gems and desing . She hand made pieces from some of the worlds BEST GEMS.
~ I mean LOOK AT THESE STONES ` you see that Blue flash? ... Thats a really special quality of rainbow moonstone. I wish I had the words to describe the energy of this piece ... of Amalias pieces in general .. cause the earrings are reeeeeeaally special too ... But just maybe one of the pieces in yours. Special jewelry has a way of finding its owner.
Please honor this queen artist wife mother by follwoing her @rainbowgemskauai and have a loooook. I mean who doesn't love rainbows?
India Arie