Regular price
$2,500.00 USD
Regular price
Sale price
$2,500.00 USD
Unit price
per
Sale
Sold out
Kauai Mermaid Treasures…
Beloved Sunrise Shell framed with gemstones and Solid 18K handcrafted gold beads.
Approximately 17.5" long with solid 14K gold lobster clasp. Rainbow Sequence includes: Apatite, Amethyst, Ruby, Light Ruby, Pink Sapphire, Carnelian, Spessartine Garnet, Heliodor, Peridot, Emerald, Chrome Diopside, & Apatite.
These gorgeous shells are one of a king and necklaces are made to order. Contact us to select your shell and gemstone colors :-)
Share
Text block
View full details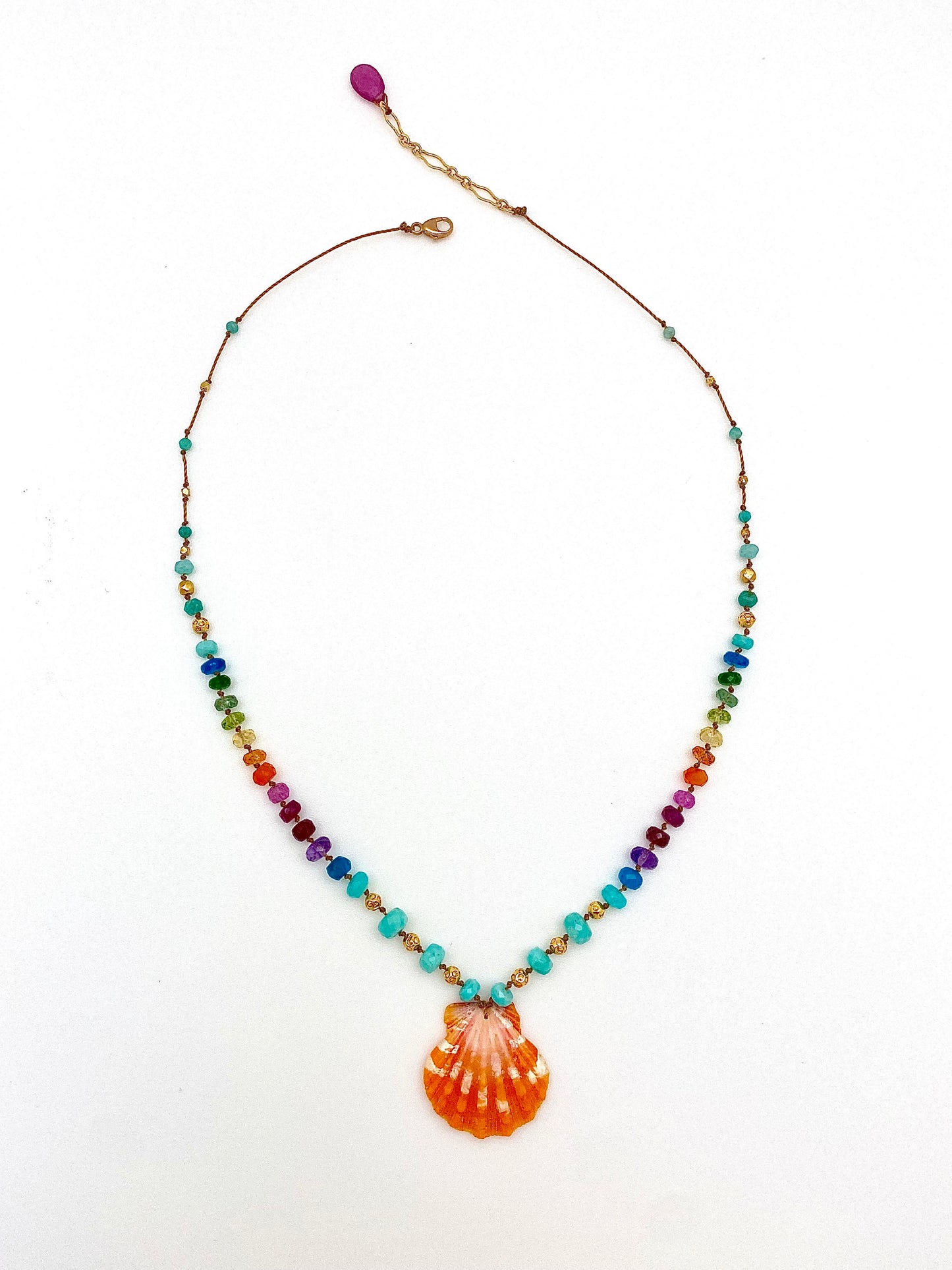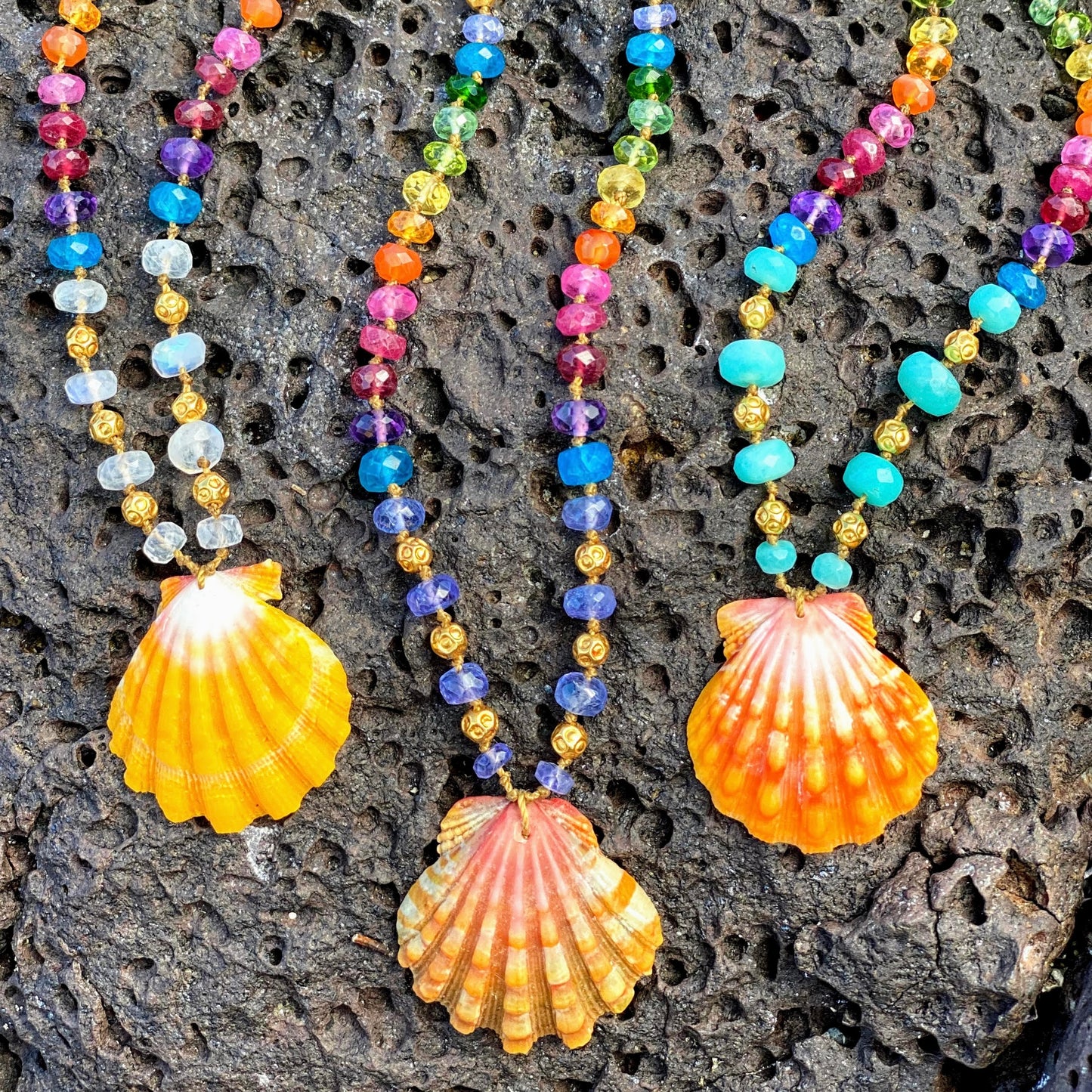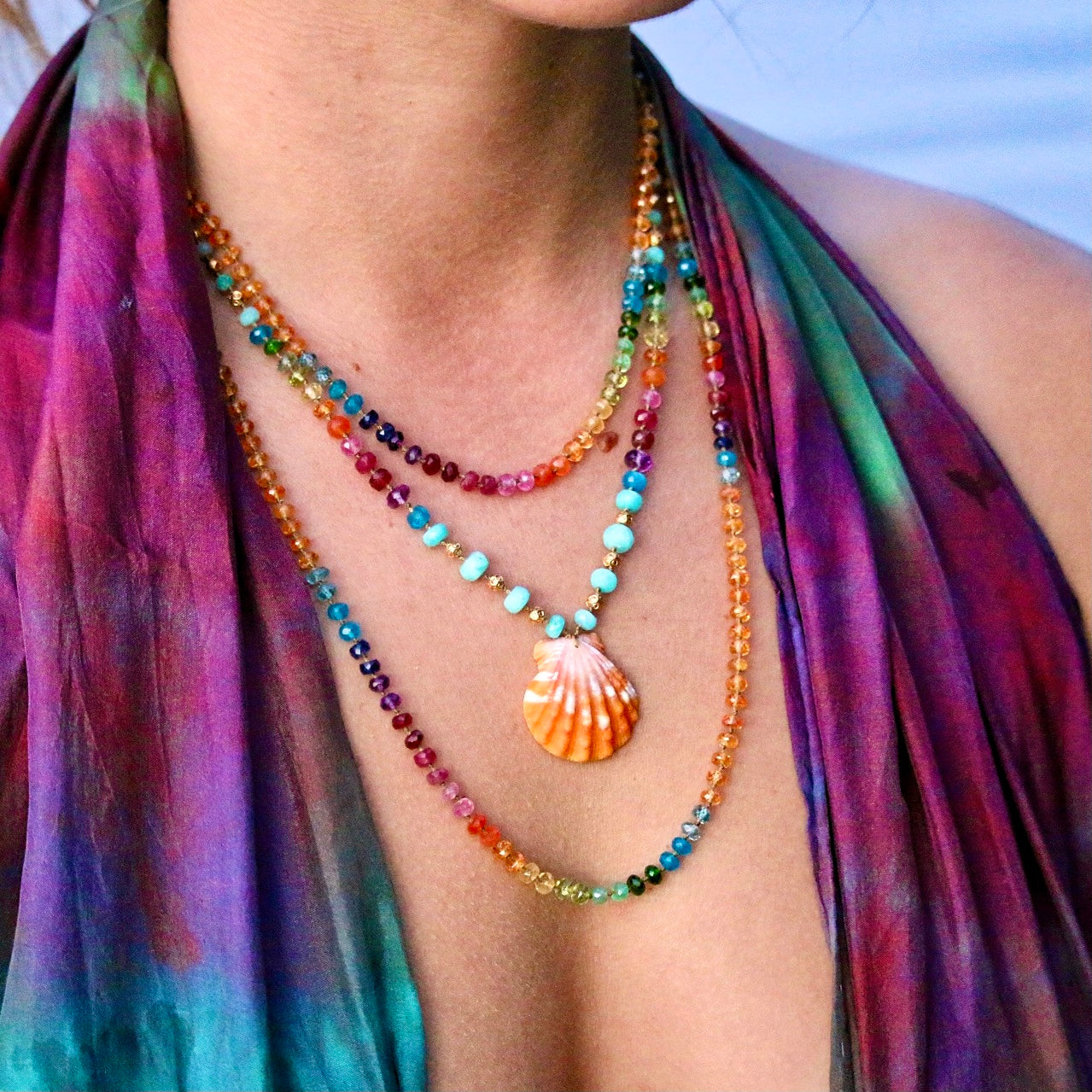 SUNRISE SHELL
Considered a sacred gift from the ocean, these rare shells are endemic only to the Hawaiian islands and originate from a deep water scallop. They are typically hand collected from beaches at sunrise bestowing the shells with their common name. They are believed to embody the spirit of aloha and provide hope, strength, and protection to the wearer.
GOLD
The precious metal gold is considered a master healer with rays in spiritual development, purification, and rejuvenation, and has long been associated with self-actualization. Treasured for its beauty and significance, gold has an enduring appeal. All of our gold elements are designed and crafted by hand in alliance with a 9th generation gold smithing family from India.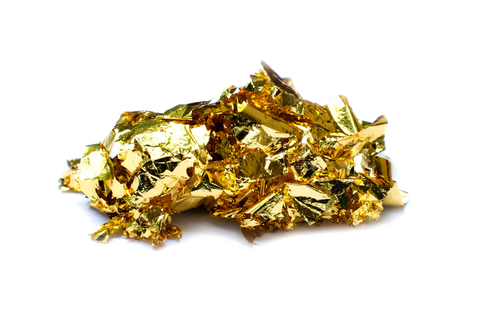 Please read our disclaimer regarding our mineral information
Rainbow Mana
Inspired by the ethereal blessing of a rainbow as it breaks through the clouds in a show of light, the rainbow mana collection emanates an awe inspiring beauty that is food for the soul.  Playing with the full light spectrum of color, these strands are saturated in rainbow hues featuring a substantial crystalline drop, making each a true power piece of resonant medicine.  Like a deep base note, the rainbow mana collection brings depth, strengthening our inner vibration and heralding the abundance of our most radiant nature.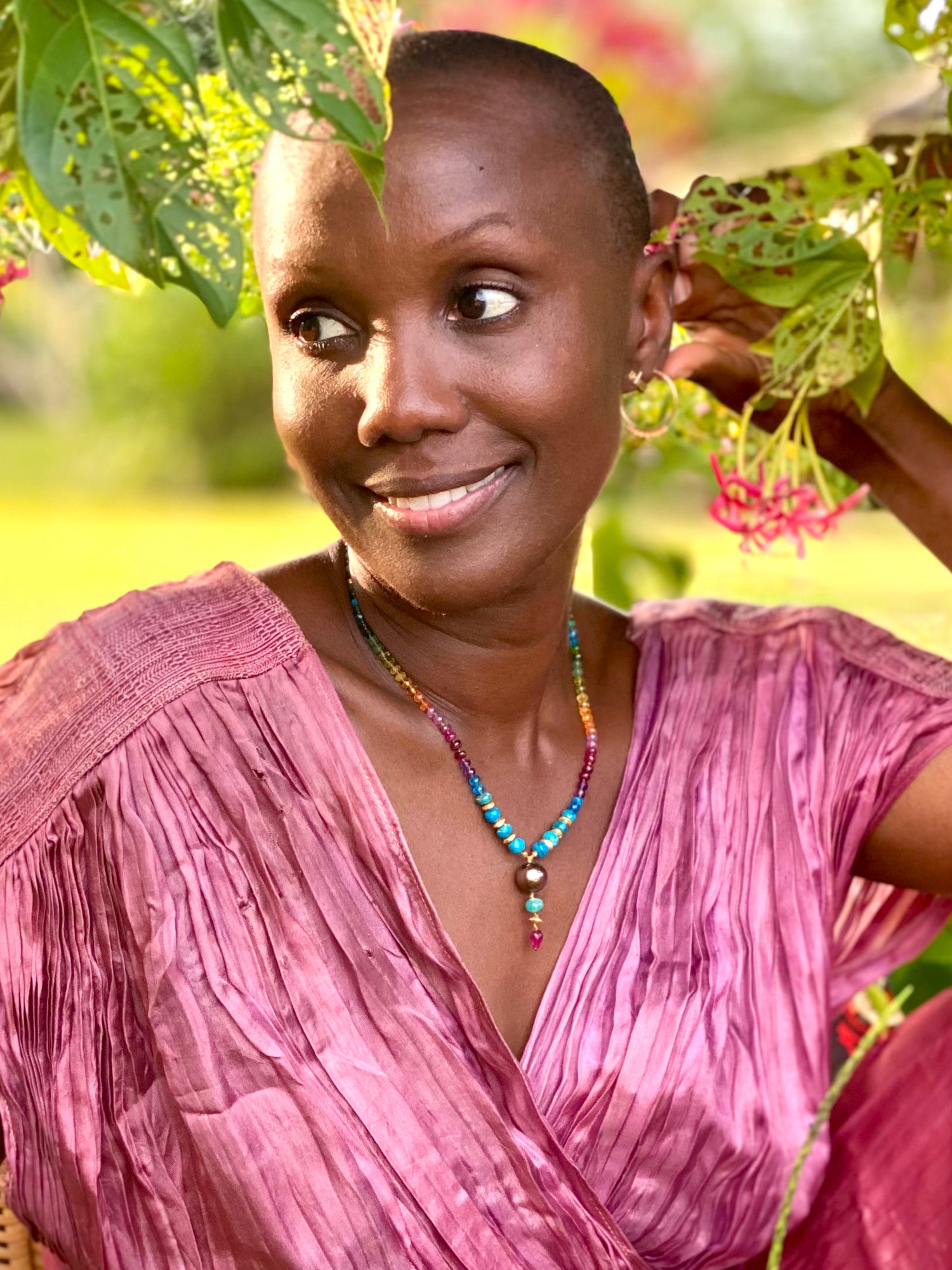 The Rainbow sequence includes:
Apatite
Blue Sapphire
Amethyst
Ruby
Light Ruby
Pink Sapphire
Carnelian
Spessartite Garnet
Heliodor Aquamarine
Peridot
Emerald
Chrome Diopside
Chrome Diopside.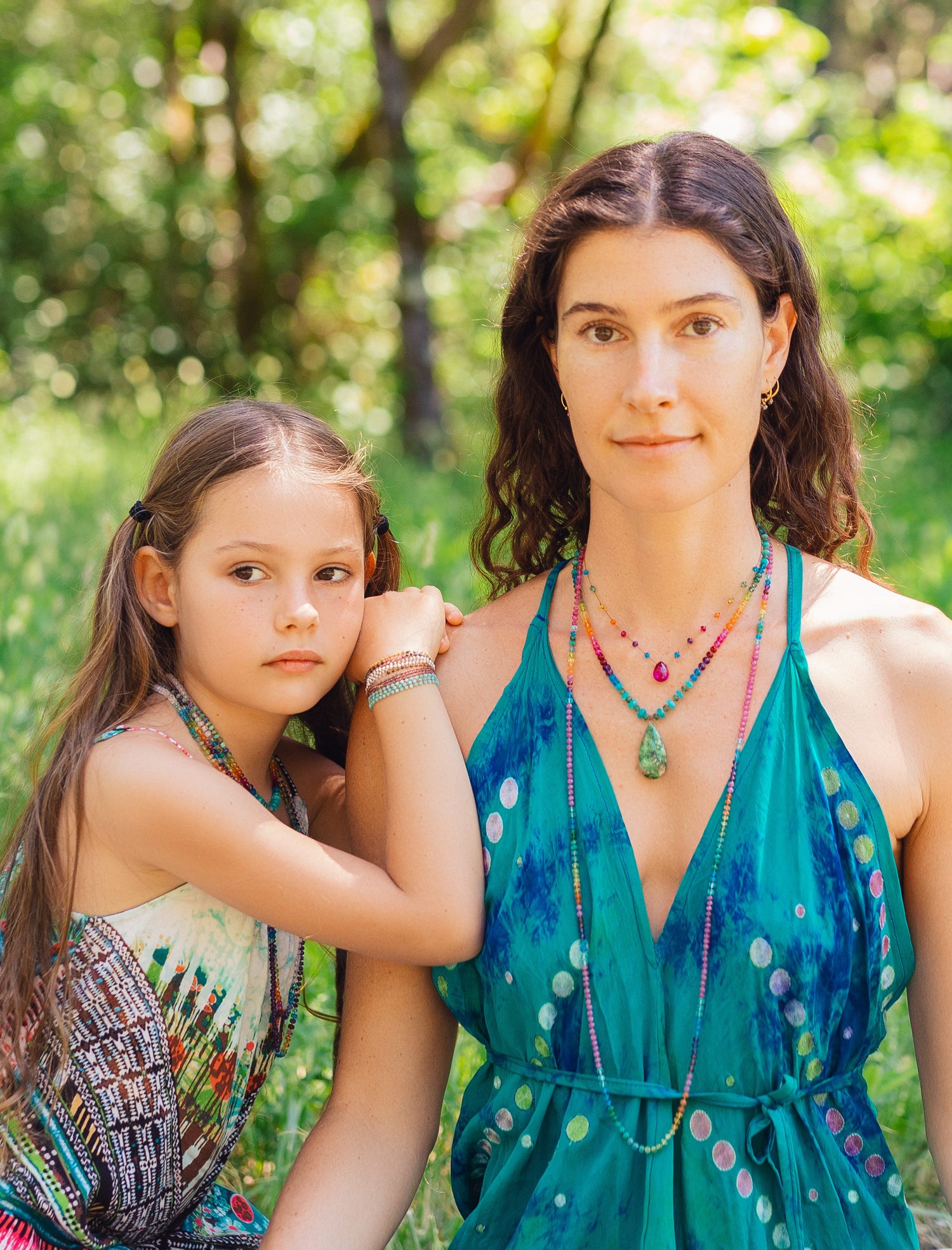 Layering:
You can layer our rainbow mana with coordinating or contrasting rainbow drops and rainbow leis to accent and emphasize these powerful center pieces.