Regular price
$2,500.00 USD
Regular price
Sale price
$2,500.00 USD
Unit price
per
Sale
Sold out
Rainbow sequences often include: Blue Zircon, Apatite, Blue Sapphire, Tanzanite, Amethyst, Ruby, Light Ruby, Pink Sapphire, Carnelian, Spessartite Garnet, Heliodor Aquamarine, Peridot, Emerald, Mint Kyanite, and Chrome Diopside.

Handmade solid 18K Gold flower bead and hoop clasp. Approximately 47-54" long.
These stunning long leis can be worn long, doubled, or sometimes tripled around the neck.
Share
Text block
View full details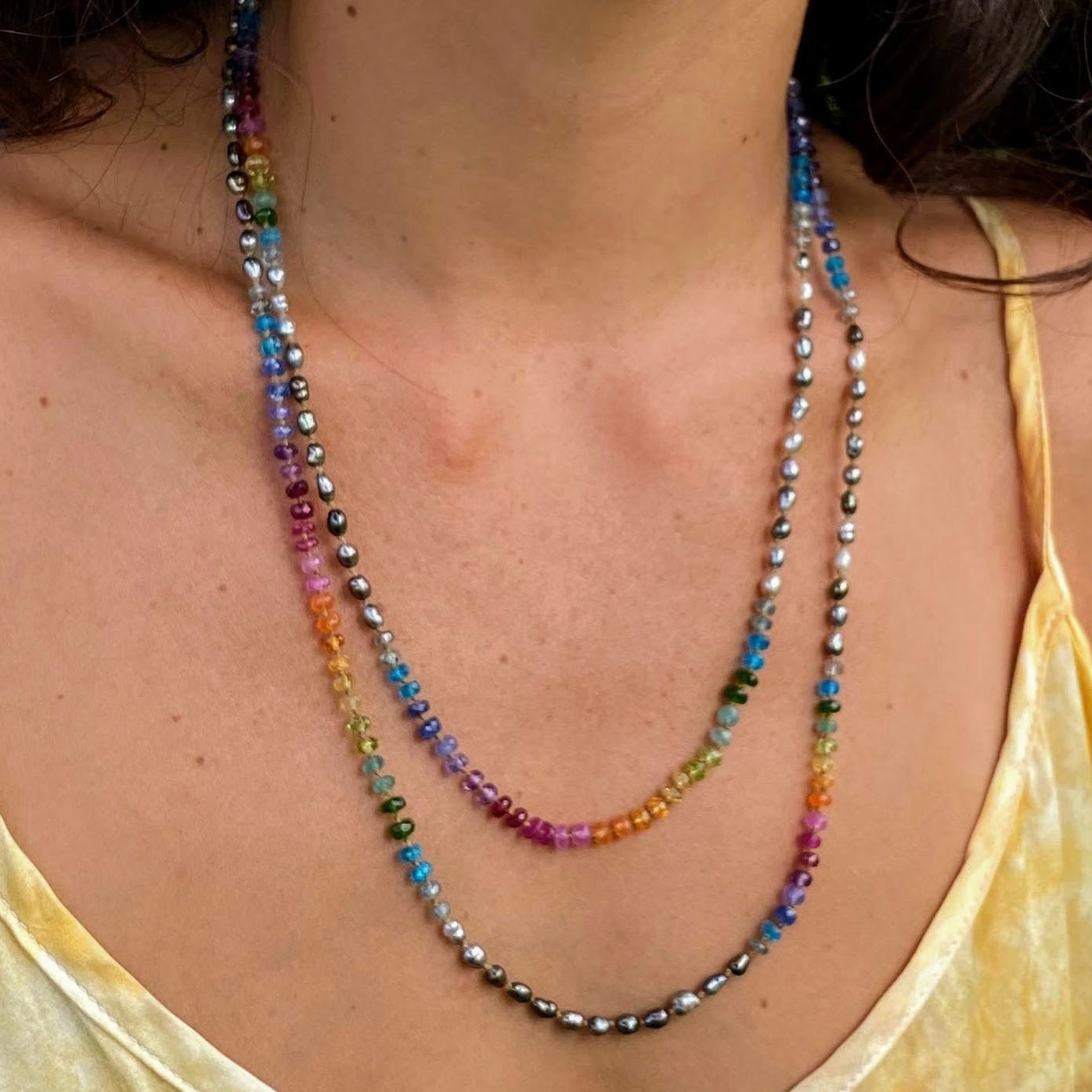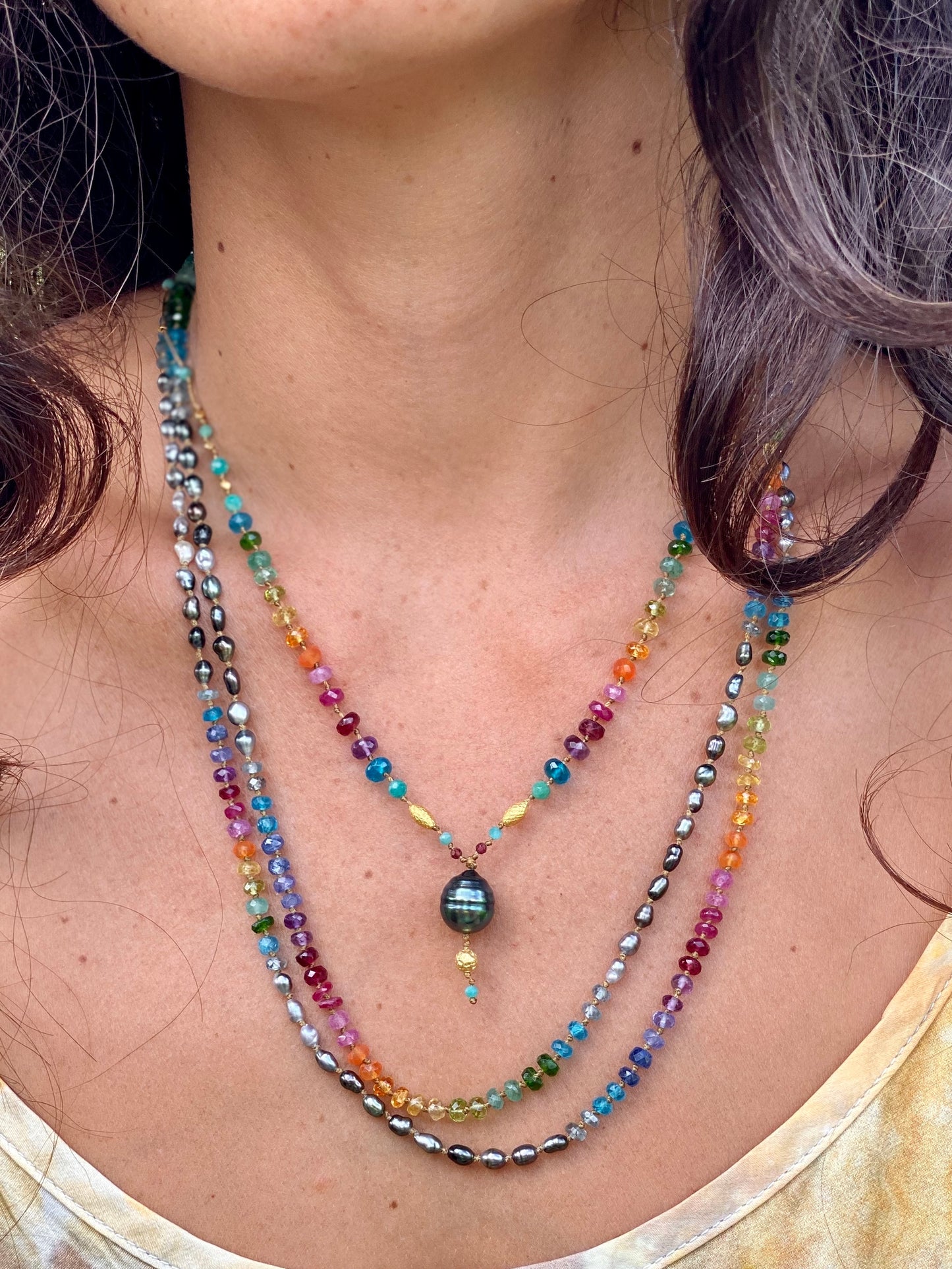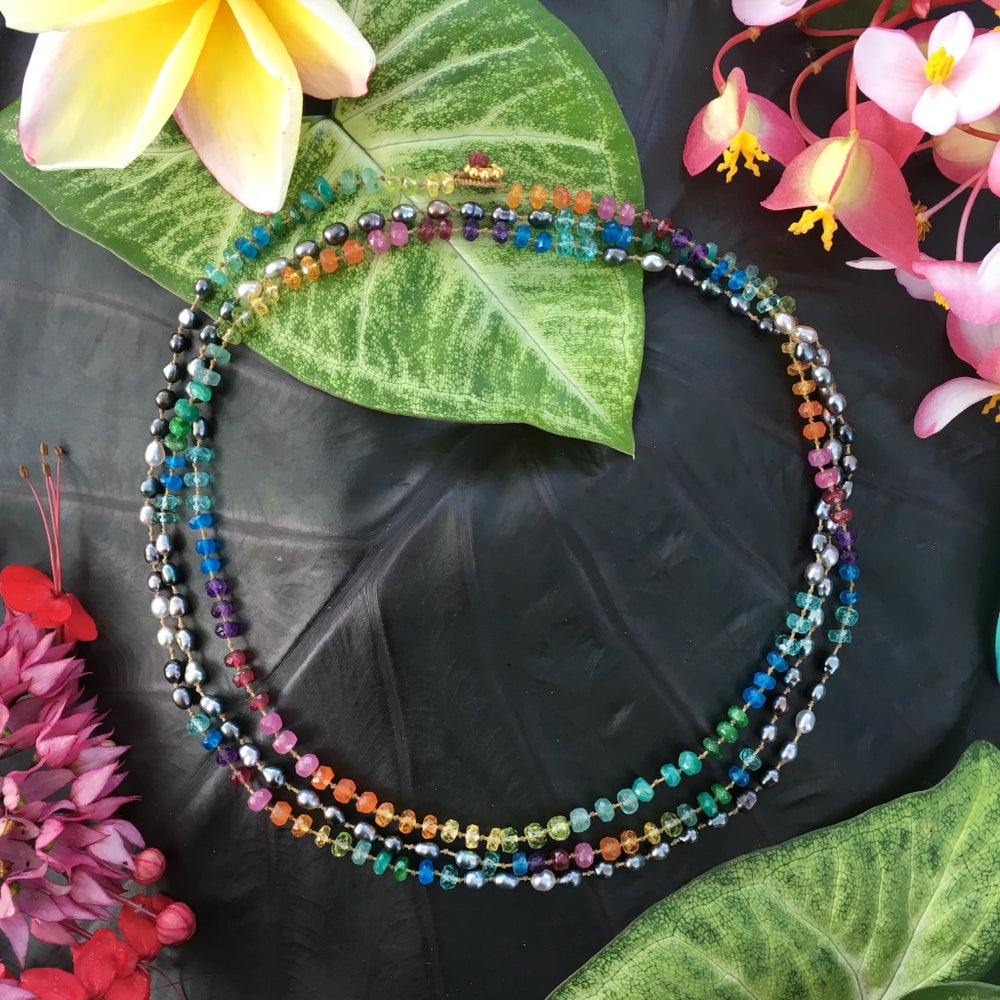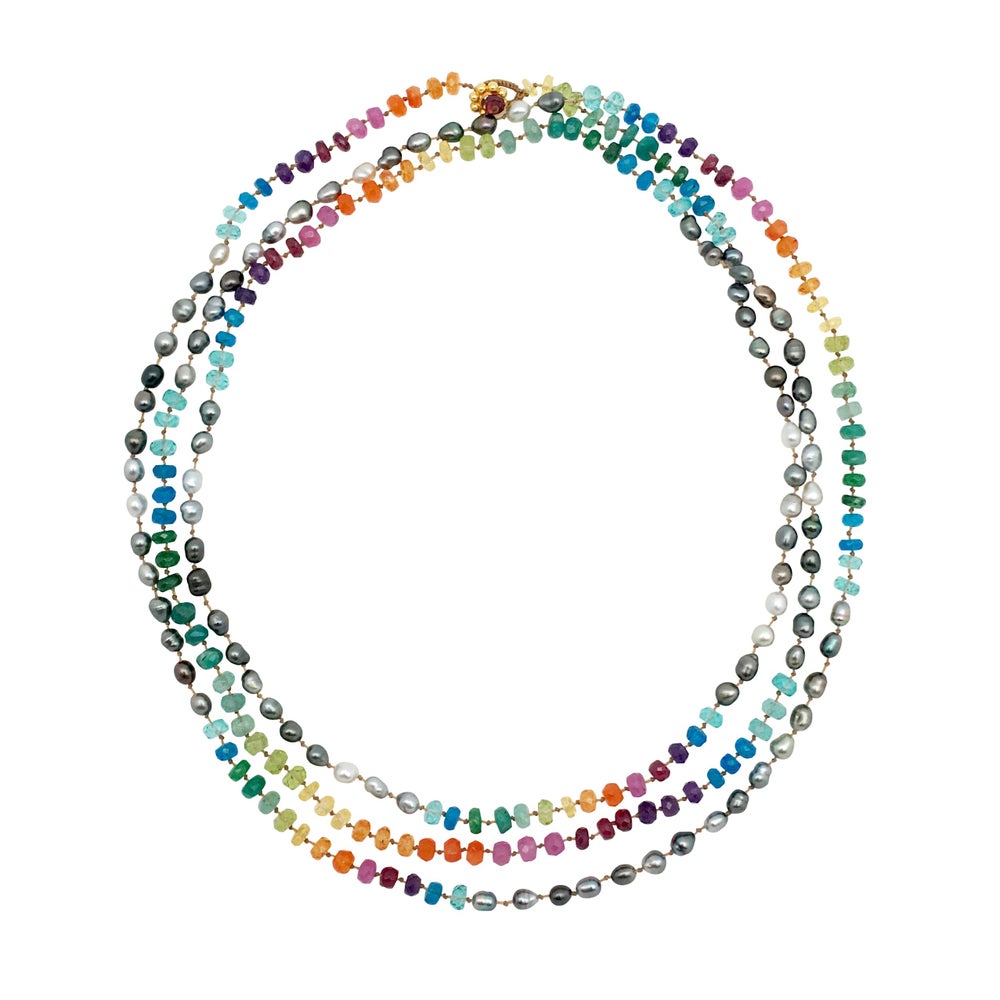 TAHITIAN KESHI PEARL
A saltwater pearl cultivated in French Polynesia, Tahitian pearls add an element of mystery, wisdom, and sultry island elegance. Considered a protective pearl, they support transformation, ever lasting love, and the alchemy of the heart. The rare black color unique to Tahitian pearls is a result of the dark pigment secreted by the black-lipped oyster found in French Polynesia. Tahitian pearls are nature's only source of truly black pearls and come in a variety of deeply pigmented pearls from with a range of colorful overtones, from pitch black to the infamous peacock pearl. These uniquely shaped pearls are highly sought after for their variety, beauty, and luster. A bi-product of the culturing process, Keshi pearls are formed when an oyster expels an implanted nucleus. As a result, they are made entirely of nacre and exhibit remarkable luster.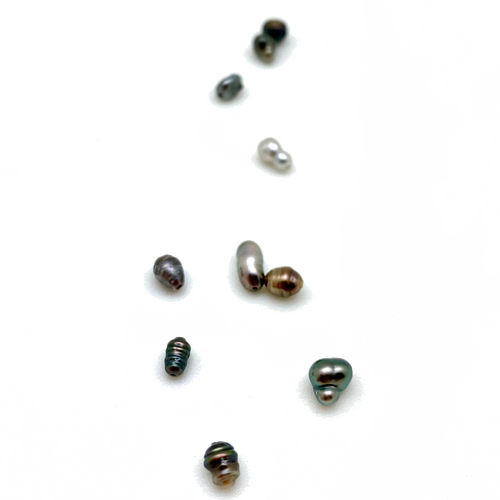 Please read our disclaimer regarding our mineral information
Rainbow Leis
Leis are a quintessential expression of aloha. A stringed embrace of love, friendship, welcome, appreciation and honor. Rainbows of hope, new beginnings, equality for all beings, abundance, luck, and the bridge between human and spiritual worlds. Wearing this crystalline light spectrum is a bouquet of blessing, a welcoming of our embodied expression, and a powerful activation for new phases of life.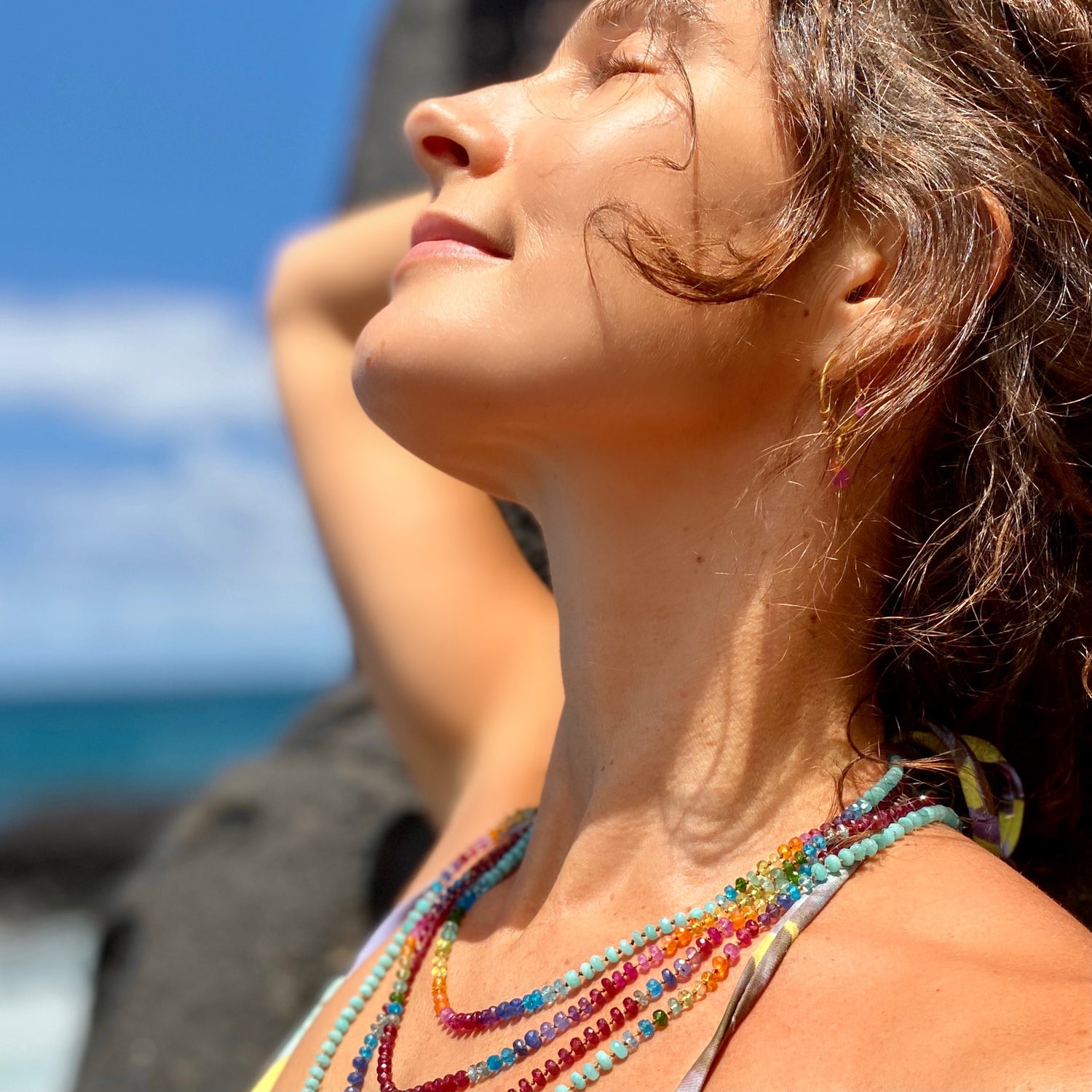 The Rainbow sequence is:
Blue Zircon
Apatite
Blue Sapphire
Tanzanite
Amethyst
Ruby
Light Ruby
Pink Sapphire
Carnelian
Spessartite Garnet
Heliodor Aquamarine
Peridot
Emerald
Mint Kyanite
Chrome Diopside.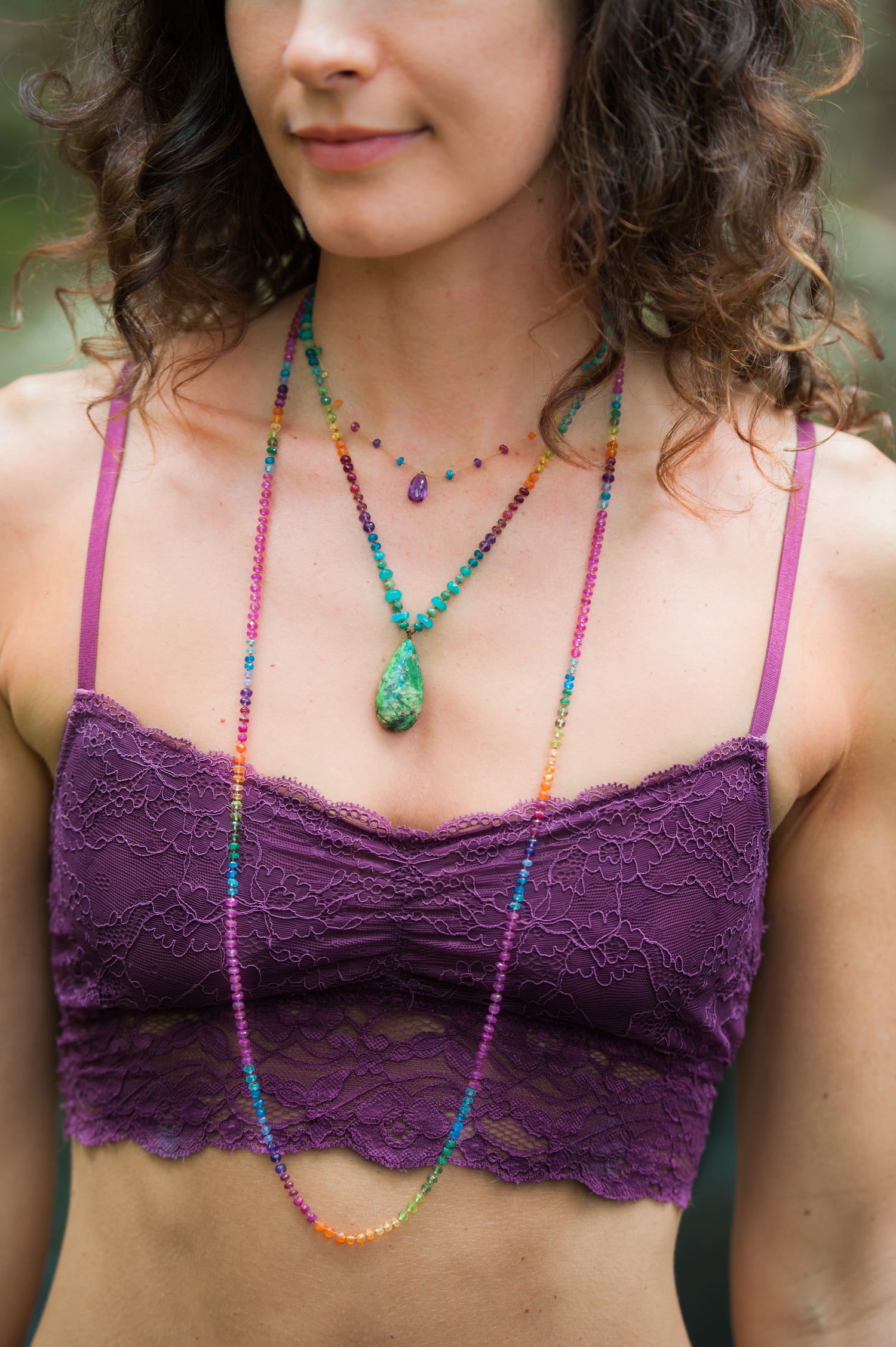 Layering:
You can layer rainbow Leis with alohi drops or any of our other collections, especially our rainbow drops and rainbow mana collections to bring forth dynamic color and textural contrast or chosen mineral emphasis.
Praises